How to Become a Graphic Designer
To become a graphic designer, you need to learn how to create impactful visual experiences and communicate ideas with purpose. Combining your creativity with your problem-solving and communication skills, you will be able to negotiate design briefs and bring ideas to life. But, what does it take to become a graphic designer in Australia? We recently spoke to Gregory Suzan, one of APC's talented graphic design trainers to find out.
What does a graphic designer do?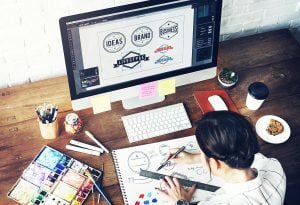 A graphic designer is a visual creator. Almost everything that surrounds us has been shaped by design and when you become a graphic designer you will learn what makes things appealing.
The business world has changed a lot in the last few years and consumers are looking for value and quality more than ever. Every type of business now needs quality visual assets and a huge amount of interactions with consumers occur digitally. That means that graphic designers have a place in every type of business.
What skills do you need to be a graphic designer?
You need to have an eye for design and the ability to give care and attention to what's around us. Your job as a graphic designer is also to be commercial. So, that means that you need to be able to consider consumer psychology. It's about taking your understanding of the elements of design, typography, and design to interpret a brief and bring it to life in a way that will help to build a brand or create a great customer experience. 
That means that you have to be flexible. The design field is so broad. One day you could be making a digital asset for a website, the next you're creating social media posts, a printed design, or a billboard for a campaign. 
This will see you working across a lot of different types of graphic design tools. To be able to create a variety of assets, you will need to be able to use a broad suite of software, such as Adobe Photoshop, InDesign, and Illustrator. These tools are constantly improving, so it's important that you constantly reskill and stay ahead of updates. If you continuously practice using these tools, your workflows will become more efficient and you will be able to push your vision further.
You will also work with people who aren't from a design background and have a limited understanding of your field. So, you have to be able to explain your concepts in a professional way that makes sense. You're also part of a team, so being able to take feedback is essential.
What is it like to be a graphic designer?
As a graphic designer, you could be working as a freelancer or as an employee within a company. I work as a freelancer and I can tell you that no two days are the same. You could be working on a brand strategy project one week and then creating a website the next. The work is so varied, spanning advertising, print, niche, and digital assets. My clients are also from different industries, so every project looks and feels different. 
My favourite part of being a graphic designer is delivering a project to a client and having awesome feedback. It's also a great feeling to walk down the street and see your work in real life. However, one of the most challenging aspects is dealing with multiple clients. When I'm working with people who don't have an understanding of graphic design, taking the time to educate them about why things need to be designed in a certain way helps to keep the project on track.
What does a graphic designer need to know?
What most people don't realise about being a graphic designer is that you truly have to be dedicated to your craft. Day or night, I'm constantly opening up my design software and experimenting. The number of tools and assets that you need to master is huge, and you need to evolve your practice just as fast as the software provider releases updates. To stay ahead and push your practice further, you need to have a solid foundational understanding of design and then continuously add new techniques into your process.
In 10-15 years' time, I think that the graphic design processes and deliverables will change, but at the core, graphic designers will still be aiming to deliver the best visual experiences with their client's interests in mind.
AI is also really going to change how fast we're able to move, it's incredible to think that right now we can already use AI to click a few buttons and create realistic images. I don't think that AI will replace graphic designers, but automating repetitive tasks will help us to be more creative and solve more complex design problems.
How long does it take to be a graphic designer?
The length of time it takes to become a graphic designer can vary a lot from one person to another. In my mind, it's a lifetime commitment and I'm always wanting to become better. Design trends are so varied, so there is always a new way to do your work. 
I spent two years at APC studying graphic design courses. Before that, I had never touched any digital design software, I was more of a pen-and-paper kind of guy. I had come to Australia to be a tattoo artist and learning how to use these new tools completely changed my perspective as to how creative I could be. Something that used to take me 8-12 hours to draw with pencils, I could now create in four.
The design courses also taught me structure and I was learning from trainers who were actually professionals with insight and experience in the field. Starting from scratch taught me patience. You won't become a graphic designer overnight, but it's about being curious, trying new things, and practising. 
How far do you want to take your graphic design career?
The real question is, how far do you want to take it? If you're constantly willing to learn and push your graphic design practice further, the creative possibilities are endless.
If you're ready to kick-start your career in graphic design, then check out APC's practical courses: