What are the Principles of Design Thinking?
Design thinking is a mindset that encourages creativity and problem-solving. While it's often used by creatives, anyone can follow the design thinking process to solve problems and imagine innovative solutions. APC's Design Trainer and Assessor, Anna Krispel breaks down the design thinking model and explains how it can be used to bring ideas to life.
Design thinking principles help us to overcome the feeling of overwhelm and perfectionism that can take over when we're trying to create something new. Have you ever sat down at the start of a creative project and had no idea where to start? Whether you're painting a picture, designing an interior, or building a website, getting started is often the hardest part. 
Most people rush to get to the right idea right away. However, design thinking principles encourage us to gather inspiration, explore ideas, and experiment with possibilities. It helps us to go slow so that we can go fast. 
The result? We give ourselves the space and time to discover new possibilities, come up with incredible solutions, and create something that we're proud of. 
So, how about we explore the design thinking methodology and how it could work for you? 
The design thinking process is broken down into stages. 
When we start a creative project, we need to remember to break it down into the design thinking stages.

Problem-Solving and Inspiration

Ideation and Design Development

Experimentation and Refinement
Problem-Solving and Inspiration
Seeing a problem to solve or receiving a design brief can be an exciting experience. It's your chance to create something new and make an impact on the world. Often, our natural instinct is to rush to solutions. Some of us freeze up, as the perfectionist within us tells us that our initial ideas aren't good enough. 
This isn't always the best approach because it doesn't give us any space to make sure that we're solving the real problem and exploring all possibilities. When I give my students a design brief, I encourage them to get their ideas on paper first. We create mind maps, take notes, and sketch ideas. No matter where my students go, I encourage them to carry a notebook and sketch pad because we often get ideas and random times and places. No one else has to see these initial ideas and it's important that we note them down so we can remember them later. 
All ideas are welcome at this phase in the design thinking process. That's because the design process is iterative and gradual. It doesn't matter if your first idea isn't the best idea. But the process of getting it out of our heads and onto paper can help us to become more inspired and encourage other thoughts to flow. 
At this stage, we might even start to create mood boards that help us to visually capture our thoughts and look at the design problem from lots of different perspectives. This also helps us to see how different ideas relate to each other, which is one of the keys to creativity and innovation.
This step in the design thinking methodology is about being expansive, thinking big, and taking risks. It doesn't matter if an idea doesn't work, we can scrap it later in the process. We should never rush this exploratory phase.
Ideation and Design Development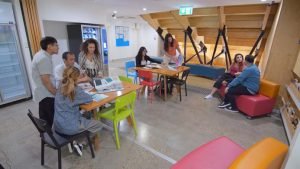 In this phase, we get to play with the initial ideas that we came up with. We can start thinking about how they would work in reality and set out on a pathway to bring them to life. APC's students learn how to use design programmes, such as Illustrator, InDesign, or Sketchup to start fleshing out their original concepts and creating scaled models. 
When they are drawing, sketching, and creating, they have to start thinking in more of a critical, problem-solving way and start connecting the dots. It can be quite a messy process as they find that some pathways don't lead them anywhere or have taken them away from the initial brief. But that's ok. We learn so much along the way and every step forward is a step forward. 
We might even get out of the classroom and source additional inspiration from a new environment. One of my favourite excursions is to a shop called Reverse Garbage. We look for discarded materials that otherwise would have gone to landfill and think about how they could be repurposed within their designs. Often, this helps us all to think about our concepts from an entirely new perspective and catch unseen opportunities. I have seen sheets of ply, cork, and plastic being reused in incredible ways.
In this phase, a working designer might also start showing their client these initial concepts and gathering feedback. We have lots of check-ins so that we can ensure that we're heading in the right direction as we work towards a finished product. 
Experimentation and Refinement
The final step is to start putting our concepts to the test. This is where our thinking becomes more convergent, we have to bring it all together.
A fashion designer might start fitting their sample garment on a fit model at this stage. They will see how it looks and feels on the human body and begin to make refinements. They may start wash testing to ensure that the colours don't fade and that the fabrics are durable.
If they were making sports apparel, they might let an athlete wear the garments out on the field to see how they perform. 
The colours, fabric, or fit might not work exactly how the designer had imagined. But, since they are in a testing phase, they have the opportunity to refine things. This stage is when we can start to listen to our inner perfectionists again. We polish and shine our design until it becomes the best version of itself. 
Design thinking isn't just for "creative" people. 
Big problems exist everywhere and the principles of design thinking empower us to rise to the challenge of solving them. When we need to deal with complex issues or create something new, they give us the structure and space to explore a variety of opportunities. Then we get to put those ideas to the test and help them to become their best. 
Inspiration follows action and at the very least, design thinking just helps us to get started – no matter how big the challenge might be.