How to Become a UX Designer
UX designers use their analytical and creative skills to help people to have positive interactions with products. Since products and customer interactions are rapidly being digitalised, a career as a UX designer is fast-paced and full of opportunities. So, we recently spoke to Faraz Rana, one of APC's knowledgeable UX design trainers, about how to become a UX designer in Australia.
What Does a UX Designer Do?
UX Designers create conditions that are more likely to lead to a positive user experience. In order to do that, they need to know how to create digital or physical products that are practical, valuable, functional, accessible, and usable. They might influence the product's design, colour, material, or physical appearance to impact how a user feels about their interaction with it. 
The day-to-day life of a UX designer often involves: 
Doing research and analysing data to understand what users need.

Designing interfaces that are easy and enjoyable to use.

Organising information so that it's easy to understand.

Making designs look good.

Creating prototypes and testing designs.

Talking to others to gain feedback on their designs and working within a team.

Researching new design trends and technologies.
What are the skills required for a UX Designer?
The field of UX Design moves quickly as so many products that people use today are digital. They are constantly updated to keep up with the competition and offer the best solution in the market.  
To be competitive in this fast-paced environment, UX designers need a variety of skills. These start with having a foundational understanding of users and their needs. A good UX designer is focused on making sure that users have a positive experience. They solve problems, have careful attention to detail, and know how to create value. 
They also need to be open to learning new things and adapting. As the world changes around us, so do user behaviours and expectations. When we think about what makes a good UX designer, it's having the capacity for ongoing learning and curiosity. 
UX designers need to be good at communicating with others in order to influence the design of a product, as well as being passionate about design and making things that people love. 
How long does it take to become a UX designer?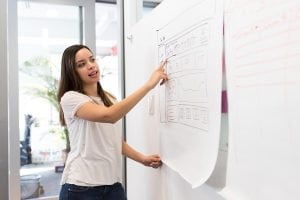 The time it takes to become a UX designer varies from person to person, depending on your ability to study courses and gain practical skills. It can take four to six years if you study a relevant subject in college, such as interaction design or graphic design. 
What should a UX designer know?
Being able to make designs that meet user needs requires a good knowledge of UX designer tools. You need to be able to use platforms like Sketch or Adobe XD to do your work. However, these platforms are constantly evolving and releasing new updates. So as a UX designer, you will need to constantly learn and update your skills to stay ahead. The profession is very fast-paced. 
You also need to have a broader understanding and appreciation of the impact of technology on society. For example, the introduction of smartphones into our lives has had many positive benefits. We can use online maps to find our way to new locations easily and have access to an abundance of information at our fingertips at any time. However, many people have also started to spend a lot more time on their smartphones to access social media, news, and entertainment, creating implications for their own mental health and well-being. 
The way that UX designers shape our interactions with products and technology can have a big impact on society. In order to balance commercial gains with social and environmental impact, UX designers need to have an awareness of the ethics and flow-on effects of their work. 
Are you ready for a fast-paced UX design career?
UX design is constantly evolving. It's an exciting field and it's full of opportunities for people who are curious and love to create positive experiences. 
If you're ready to kick-start your career in UX design, then check out APC's practical courses: