How to Become an Interior Designer
Becoming an interior designer will give you the opportunity to shape the way that internal environments look and function. You will take a vision for a space and bring those ideas to life. Deborah Atkins, one of APC's talented interior design trainers explains how to become an interior designer in Australia by developing the right skills and building your portfolio.
 What is an interior designer? 

An interior designer is a professional who brings together all of the interior aspects of a space, aesthetically and functionally. An interior must look good, but also suit its purpose functionally. 
Interior designers need to use aesthetics and function to create the feeling or mood that their client wants to achieve in their space, whether it's a home, kitchen, bathroom, office, business, or public space. 
What does an interior designer do?
Creating a pleasing interior design often involves choosing the correct furnishes, colours, finishes, and textures that harmonise with each other. Interior designers also consider the structure of a space, reviewing its current state and how to alter the way it works to make it more functional. 
A good functional design will provide adequate room for people to circulate, create good conversation areas, maximise the light in the room, and balance space. Interior designers also need to know the appropriate building codes and standards to change interior structures and provide the appropriate finishes.
What does it take to be an interior designer?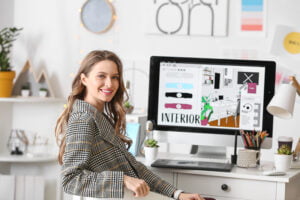 An interior designer needs to wear multiple hats and understand a lot of different overlapping industries and trades. You need to be prepared to invest time and money in formal education and training to achieve the necessary skills and knowledge.
There are so many diverse aspects to interior design and it is certainly not an easy 9-5 job. Some of the personality traits and skills of interior designers include:
Excellent attention to detail and organisation.
A love for creativity as well as maths.
The capacity to solve spatial problems. 
The ability to take accurate measurements and create detailed and accurate working drawings.
The ability to visualise how a room will look before creating it.
Proportional awareness.
Excellent communication skills and the ability to relate well to all different types of people.
What needs to be included in the portfolio for an interior designer?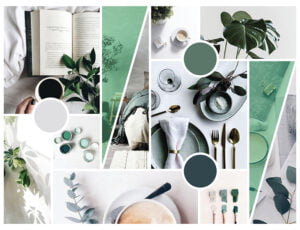 Your interior design portfolio needs to include your personal details. This includes your contact details, some information about your background and qualifications, a description of your design style, and what you'd like to bring to a project. You should also include your "tagline". This is a mission statement that makes it easy for potential clients to understand and connect with you. 
To showcase your interior design skills, you should then show images of your work with a brief explanation of each project you have worked on. If you're just getting started, you could show the best work you have created throughout your studies. This might include:
Hand sketches and hand drafting
Perspective drawings by hand and in CAD
2D working drawings that show floor plans, elevations, and reflected ceiling plans
Mood boards and concept boards
Presentation or sample boards
Material boards
Portfolios should always be presented beautifully and professionally. They are your opportunity to make a strong first impression when you are being considered for work. Do not use bright colours or patterns in the background as this can detract from your work. You should also use simple and professional fonts, as well as consistent headings for each section so that your portfolio is easy to follow.
What skills do you need to be an interior designer?
A Diploma of Interior Design will teach you the skills you need to work as an interior designer. A handful of these skills include: 
Hand drawing.
Creating professional 2D working drawings with the correct conventions applied.
CAD drawing.
Using 3D modelling and perspectives to create great presentations. 
 You will also gain valuable knowledge about building regulations and codes, furniture and finishes selections, and professional presentation skills. A good interior design course will also prepare you for the real world, with simulated projects that will progressively build your practical skills and confidence.
Are you ready to start a career in interior design?
Interior designers create better spaces for people to live and come together in. It's an inspiring and dynamic field, and APC has a variety of courses that can help you get started on your journey of becoming an interior designer.